Water Department
The Danville Water Company was established in 1892 and continues to serve Danville's water needs to this day. The current water treatment plant is located at the entrance to Ellis Park.
After-hour emergency regarding water main break, water turn off/on, and sewer backups contact Hendricks County Dispatch at 317-839-8700.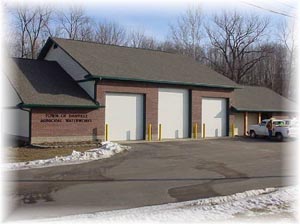 New Water Treatment Plant Information

Contact the Clerk Treasurers' office for:
New water service
Change your water service
Questions about your water bill
Pay your water bill
Clerk-Treasurer's office 317-745-4180 ext. 7000
E-mail: utilities@danvilleindiana.org
Utility Billing: The utility billing cycle begins with meter readings around the 1st of each month. Bills are mailed no later than the 15th of the same month.
Billing Due Date: Payments are due in the Utility Billing Office located at 49 N. Wayne Street (Danville Town Hall) on the 4th of each month.
Penalties: If payment is not received by the due date, a 10% penalty is applied on the 5th of the month.
Disconnect: Notices are mailed around the 8th of the month on all accounts with an outstanding balance on their utility account.
Disconnect Fee: A $50.00 disconnect fee is charged according to Town ordinances on all accounts that are disconnected due to failure to pay. Payment of this fee is required before the service will be turned back on.

Recent
News
Useful
Links
Services